Due to the relaxation of lockdown measures, the venues accredited with Thailand MICE Venue Standard (TMVS) gladly welcome all MICE travellers to MICE events under TMVS that provide COVID-19 safety measures with the aim of building confidence to all the organizers and attendees. Let's take a look at these 4 creative MICE venues under TMVS in Bangkok that we would like to recommend you.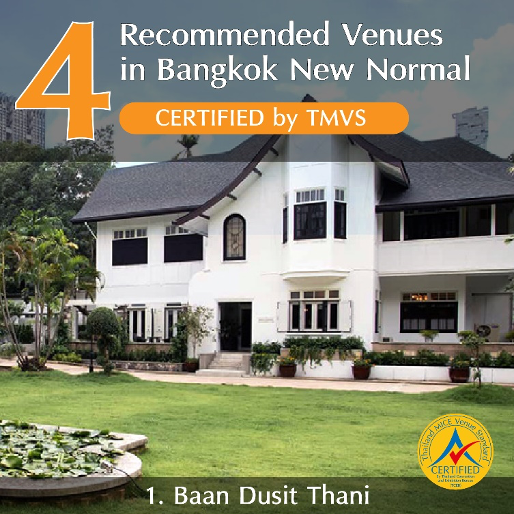 Baan Dusit Thani
Baan Dusit Thani, contemporary architecture in Saladaeng area, has been reconstructed, gathers recreational facilities, and the famous restaurants from Dusit Thani hotel for visitors: Dusit Gourmet Cafe; Benjarong, A Thai Restaurant; Thien Dong, A Vietnamese restaurant. It also provides rental space for a wide variety of events: meetings, weddings, and parties.
Moreover, Baan Dusit Thani implemented safety protocols by applying technologies for service in the restaurants and hybrid meetings in the form of webinar with the full HD screen, clear sounds, perfect lights and colors. So, if you are looking for safe events and delightful menus, then you can think of Baan Dusit Thani.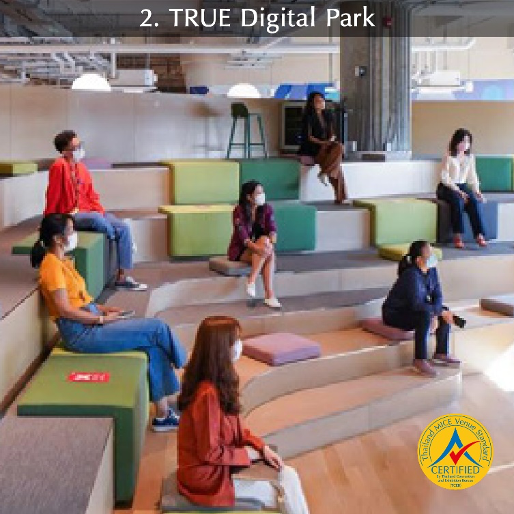 True Digital Park
True Digital Park, the future world area, aiming to be the center of startups in ASEAN and known as the best of TMVS venue in Sukhumvit, offers its venue and high technologies for hosting both on-site and online MICE events such as webinar and livestreaming. So all participants can be sure that MICE events holding in True Digital Park under the TDPK Care: strict screening for Covid-19, utilizing robotic technology, using cashless payments, and regularly cleaning the area, will not only be safe and hygienic but also easy to travel by BTS.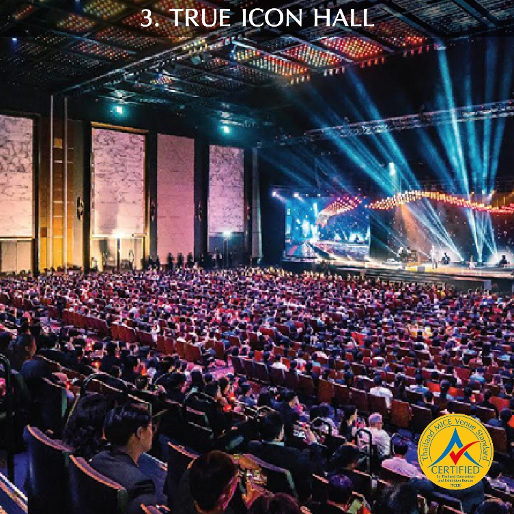 True Icon Hall
Located on the 7th floor of ICONSIAM, True Icon Hall offers Ultras-Hybrid World Class Auditorium for organizing MICE events. Visitors will receive new and grand experience in the place that has over 3,000 seats, Retractable Seating that is world class technology and innovation of seating system, and Tri-wall Panel Acoustic which is Thailand's first automatic walls.
Furthermore, True Icon Hall also has strict hygiene measures, social distancing, air cleaning, and surface cleaning that are commonly touched with disinfectant sprayers to enhance the confidence in all aspects of health safety daily after office hours. So, we are certain that True Icon Hall will leave an unforgettable impression on those who join.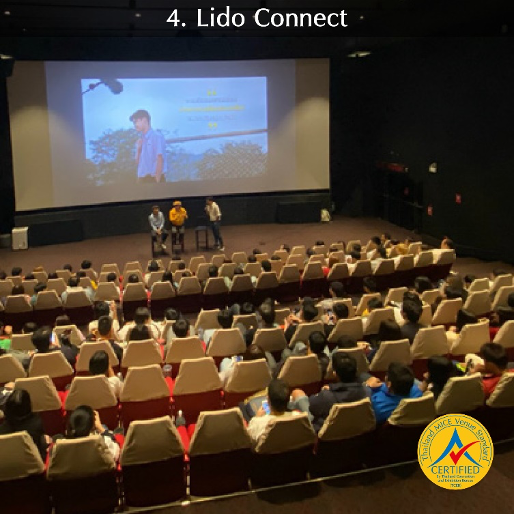 Lido Connect
A new community in the center of the city for the new generation that is not just any places but Lido Connect is a shared space gathering the stories from people who are passionate about music, art, creativity, and innovation. It is therefore suitable for music events, product launches, art exhibitions, movie theatre, talk shows, fashion week shows, and offline and online workshops.
Lido Connect also strictly gives priority to the health measures: limited attendees, social distancing, temperature check, several hand alcohol sanitizer stations, and fully vaccinated employees. So if anyone is looking for creative event areas, we can strongly recommend that Lido Connect will meet all your needs in a new community in the center of the city that also easy to travel to with rides of BTS.
These 4 TMVS venues suggested above are interesting, aren't they? It is not only having a health measure under TMVS of TCEB, but it is also a place full of creativity with all facilities that can be reached with a quick ride of BTS. So, if you are thinking about creative MICE venues, then these 4 places will not disappoint you.